Holiday Guests
Ingenia promotes a safe a welcoming community for our guests and residents. 
Our 40 Ingenia Holidays parks, located across the east coast of NSW, VIC and QLD are focused on providing more than just comfortable accommodation. With an addition of 11 new parks over FY22, we are now the largest owner of parks on Australia's East Coast.
Our commitment to creating community is reflected in our focus on providing guests with great breaks in great places
The COVID-19 pandemic continued to impact operations over FY22. This experience continued to demonstrate the importance of maintaining a proactive approach to stakeholders and our teams continued to respond as restrictions remained in place. This included providing clear information on our safety procedures and implementing changes in line with Government and authorities' direction. We maintained constant communications with guests through direct communication, regular updates on our website and through our social media channels and collaborated with guests to rebook their holiday plans.
Engagement with our Guests
Guest engagement is extensive, extending from initial inquiry via our website, through our marketing campaigns or via phone and extends through to post stay surveys. We seek to understand our guests' needs, their experiences at our parks and to constantly evolve our service and offer, leading to innovations such as evolving our food service options and expanding our accommodation types. Our post stay surveys, which are sent to all guests following check out, allow us to continually refine our guest offer, providing great insight into the overall experience, the performance of our team and elements of our guests stay.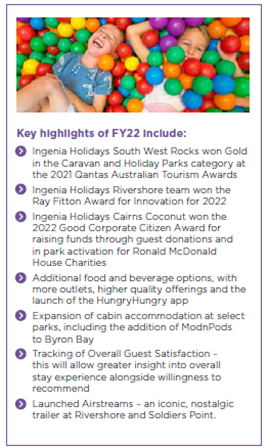 To find out more about our Holiday Parks click here.