Ingenia Gardens Grovedale beloved resident, Marion Salmon celebrated her 100th birthday with her son and Ingenia Gardens family.
Born in England and at aged 21, Marion joined the Women's Auxiliary Armed Forces (WAAFs) as a Leading Aircraft Woman during WWII. After her basic training, she graduated to driving large trucks around the aerodromes. Even though women didn't participate in active combat, they were exposed to the same dangers, however for Marion, this period of her life represented some of her happiest and proudest moments.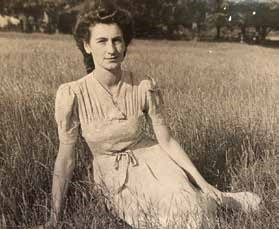 Marion and her husband Authur relocated to Australia 20 years later and enjoyed a full life living in Torquay and Belmont, Victoria. In their later years they enjoy afternoon tea visits with the residents from Ingenia Gardens Grovedale. After Authur passed away, Marion decided to become a resident herself and has called Ingenia Gardens Grovedale home for the past nine years.
When asked the secret to a long happy life, Marion replied with "My mother's genes and not letting things get me down."
Community Manager Celeste Flight‍ said that despite Marion being one of our oldest residents, she is still active in the community and is often seen socialising with her neighbours (pre-CV19).
Besides a special visit from her son who represented the family and a letter from the Queen, Marion was treated to a surprise from all her neighbours who stood at their front doorstep and sang happy birthday to her. Her son then presented her with a box of messages from her neighbours and a beautiful bunch of flowers.
Celeste said that it was an uplifting afternoon and Marion was overwhelmed with joy.