Sustainability Overview
Ingenia Communities Group is one of the largest owners, operators and developers of quality land lease communities and holiday parks. Its core focus is the provision of community based, affordable living for Australian seniors. Through our integrated business of development and ongoing community ownership and operation, we positively impact the quality of life and lifestyle of thousands of people every day.
Our vision is to 'Create Australia's best lifestyle and holiday communities'. Our vision works alongside our sustainability approach to inspire our people to create communities that have a positive impact on our planet and stakeholders.
As one of Australia's largest providers of affordable seniors and holiday accommodation Ingenia is uniquely positioned to deliver on broader social outcomes. The Group's Ingenia Lifestyle and Ingenia Gardens communities provide an attractive lifestyle for older Australians who want to maintain their independence while living in a secure and engaged community.
Our success is dependent on efficiently utilising land to create cohesive communities and focusing on the well-being of our residents. Delivering a higher quality of life for our residents is intrinsically linked to our generation of sustainable investor returns.
A clear sense of purpose – delivering a positive social outcome for our residents – drives our strategy and underpins our financial returns.
Our third Sustainability report describes how we create long–term value through addressing the environmental, social and governance issues that matter most to us and our stakeholders.
Our 2023 Highlights are shown below.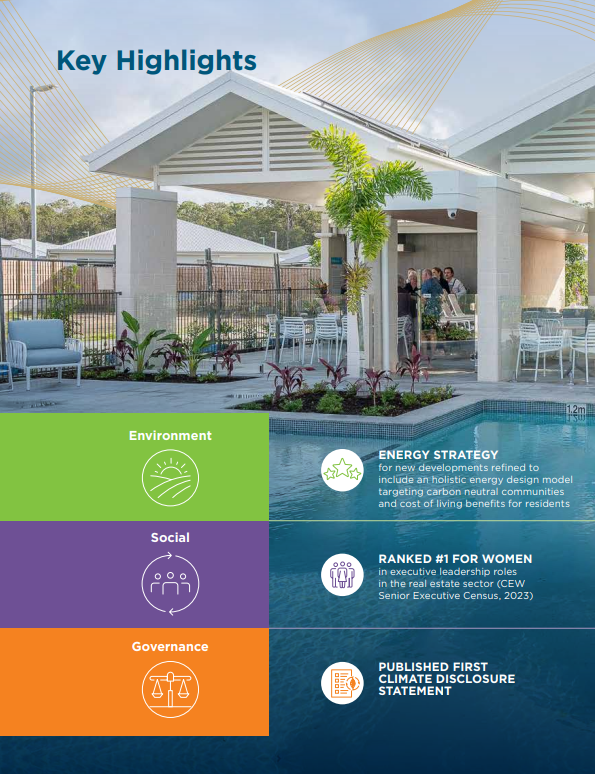 More information about our journey and approach can be found in:
Ingenia Communities is still a relatively young business with a growing asset base and evolving model. Through rapid growth over the past seven years, we have created an adaptive business model, expanded our operations and continued to grow our team and the number of residents, guests, communities and investors we impact.
Underlying this growth has been adherence to strict governance practices, positive engagement with our stakeholders and the identification and management of risk.
Across the business we have established policies, procedures and systems aimed at identifying and mitigating risk and identifying opportunities to make a positive impact. As the business expands, we continue to broaden this approach.
Challenges and Opportunities
Operating in an emerging sector which has limited institutional ownership, we recognise there are both challenges and opportunities in our approach to sustainability.
Some of our challenges include a lack of consistently measured and reported benchmarks and metrics, a diverse asset base by location, age and accommodation type and varying ownership periods for a portfolio that is continuing to grow.
We see many opportunities and are continuing to evolve our approach. Our progress to date and key areas of focus are outlined in our 2023 Sustainability Report.
ESG governance and oversight
The Group's Audit and Risk Committee (ARC) has responsibility for monitoring the Group's sustainability strategy, initiatives and reporting and recommending the Group's ESG program to the Board for their endorsement.
The members of the Audit and Risk Committee are all independent, non-executive Directors. Further details regarding the role of the ARC are found in the Corporate Governance section of this website.
Further information about our material ESG issues, and the detailed reporting on each can be found via the links below.
Further information on our Governance and Materiality Assessment can be found in our 2023 Sustainability Report and the Governance section of our website.