Ingenia Communities Group is one of the largest owners, operators and developers of quality land lease communities and holiday parks.
Our People
At Ingenia, our people are the foundation of our business. They implement our strategy and create value for our customers and investors. Our culture is key: we are committed to creating a high performance, diverse and inclusive work environment – one where people can bring their 'whole self' to work and feel safe, supported, recognised, empowered and motivated to be their best. Our core values reflect what is important to our business. We demonstrate them in our daily interactions with everyone we engage with.

We embrace and value all employee differences including gender, age, culture, disability and lifestyle choices and support each of our employees to achieve their potential and their career goals.
Our people provide a competitive advantage for our business, with a high level of sector knowledge and expertise that is critical to our overall business performance.
We work to maintain a performance oriented and inclusive culture; to attract, develop and retain talented people; and to drive a high level of employee engagement and success.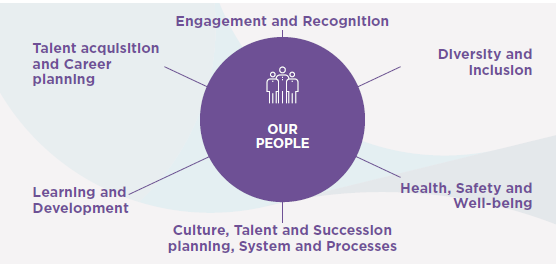 Employee engagement and recognition
We know that the well-being and engagement of our team is essential to delivering community for our residents and guests and ensuring the ongoing growth and success of the business.
Regular employee engagement surveys serve as an indicator of the level of engagement of our team and provide insights and feedback on a range of topics. Insights from the survey are shared with the whole business (and the Board) and are utilised by management to identify areas of improvement and future needs.
Highlights from the survey FY22
We ran an in-depth employee engagement survey 'Your voice' in September 2021, completed by 75% of our people. Pleasingly this rate was well ahead of our FY21 and FY20 surveys where the completion rate sat at circa 50%. Our engagement score was 74% favourable, which is 2% higher than the benchmark. The positive things we heard consistently were around a supportive climate, confidence in the company, recognition and feedback.
Employee Support and Well-being
During a time of unprecedented market turbulence and challenges faced by businesses globally, Ingenia was able to adjust its existing procedures to ensure all staff were supported to continue carrying out their daily tasks during this difficult time.
Ingenia's approach to flexible work practices was essential during the COVID-19 pandemic, allowing our office-based teams to efficiently move to a work from home model supported by increased use of in place technology.
The Well-being Centre is a portal via our online communication platform for many resources that incorporate mind, body and diet available to access anytime, on any device. We provide means to our staff to take care of themselves. We continued to promote access to the Employee Assistance Program (EAP), which gives employees and eligible family members free access to professional, confidential coaching and support for their mental health and well-being.
Hybrid Working Arrangement
Ingenia recognises the significant competing demands that are placed on employees outside of work and has developed initiatives towards supporting effective work-life balance. Through COVID as we adapted to a changing environment, we identified the value for our business of coming together collectively as a team, but also of providing space for people to work independently.
Our new Hybrid Work Policy was introduced to provide flexibility for our team while maximising the benefits to the business of both collaborative and independent work. Through the policy, employees whose roles allow for it, are offered the opportunity to work from the office for 3 days and from home for 2 days every week.
We continue to work with our people to refine our work practices to ensure a balance of personal productivity and collaborative efficiency while maintaining the required flexibility to work in a rapidly changing environment.
Developing our people
Rapid business growth has created significant opportunity for staff development. We believe that investing in the development of our people will benefit the business as well as motivate individual employees to achieve their own career objectives while delivering sustainable results.
In FY22, we increased our investment in training to develop the skills and abilities of our people. In addition to a defined performance measurement framework and regular reviews which set and measure individual goals, we introduced the Ingenia Academy in FY21, to support the delivery of our learning and development framework and to assist in tracking and recording learning and development across the Group.
Our learning and development framework seeks to ensure that we maximise learning and progression for our people and continue to attract and retain individuals aligned with our vision and values. The framework has 5 pillars.
Attract and retain talent
Develop employee capabilities
Motivate and engage employees
Create a values-based culture
Build on employer brand
Based on the framework, we provide all employees with a suite of courses that build skills in support of core competencies and traits in all programs. Ingenia Academy is key to managing completion of Compliance Programs and has extended access to a range of programs to employees across the Group.
A suite of new leadership programs was developed in FY22 – Inspire, Empower, and Strive. The new programs are underpinned by 360 degree feedback from different groups to the individual participant which gives them deeper insight to their leadership styles. This builds greater awareness and facilitates growth of a constructive leadership style aligned to our vision and values.
For further information. Refer to 2022 Sustainability Report.
Promoting Diversity
We promote an inclusive workplace where all employees are valued and respected regardless of their gender, race, religion, gender identity or beliefs. Our commitment to diversity extends to all aspects of employment, from recruitment to development, promotion and remuneration.
We embrace and value all employee differences including gender, age, culture, disability and lifestyle choices and support each of our employees to achieve their potential and their career goals.
We updated our Diversity and Inclusion policy with refined priorities and objectives. The new policy has also evolved to broaden focus on less represented groups.Ingenia was ranked first amongst Property companies by the Chief Executive Women Senior Executive Census 2022 for female representation in Executive Leadership Teams with, with Ingenia female employees representing 67% in 2022. This was the third time Ingenia received recognition in the Census. 1 Chief Executive Women Senior Executive Census 2022
Our commitment to diversity extends to all aspects of employment, from recruitment to development, promotion and remuneration.
We are pleased to see female employees continuing to be represented in all areas of the business with remuneration outcomes aligned to roles rather than gender. We continue to focus on growing the number of female employees in traditionally male dominated roles, such as development and were pleased to increase the number of females in our development team over FY22 including appointing a female to lead this team.
For more information refer to our Sustainability Report.
Health and Safety
In operating our communities and undertaking development the safety and health of our people, residents and guests is something we take very seriously. As we increase development across the Group safety is particularly important.
We aim to create and maintain safe and healthy environments, ensuring that the operations of the Group are conducted in a manner which safeguards the health and wellbeing of our teams, residents, guests, contractors and other visitors to our communities. Relevant staff have KPIs which are related to health and safety, reinforcing the importance of our health and safety framework.
Our dedicated Health, Safety and Environment Team is responsible for:
Providing support and training to on the ground teams
Identifying and mitigating health and safety risks
Providing resources and processes to address risks to health and safety
Ensuring compliance with relevant legislation
Ensuring contractors who have operational control of development activity hold appropriate accreditation standards for safety, environment and quality and are appropriately inducted on work practices required at our sites
Responding to any issues in a timely manner and reporting to management and the Audit and Risk Committee.
For further information, refer to the Sustainability Report.
Quick Links