Ingenia Holidays South West Rocks park walked away big winners at this year's Australian Tourism Awards 2021, celebrating the country's tourism excellence, innovation and resilience.
The popular NSW Mid-North Coast holiday park took home gold in the Caravan and Holiday Parks category, in recognition of its product innovation, excellence in guest experience and resilience through the worst that COVID-19, bushfires and floods have thrown at them.
Ingenia Holiday Parks General Manager Tourism Matthew Young said the award is a credit to the unique accommodation offering at the park, as well as the exceptional work of the entire South West Rocks team.
"We are honoured that Ingenia Holidays South West Rocks has been recognised for its top class accommodation and facilities, as well as excellent customer service through what has been a challenging couple of years for the tourism industry," Mr Young said.
"Within the past three years, South West Rocks has been impacted by bushfires, flooding and the pandemic, and this award is a wonderful endorsement of our team's resilience and dedication."
Impacted by travel restrictions and immediate cancellations from interstate and intrastate guests, the team has focused on a number of other elements which contributed to the overall success of the South West Rocks holiday park.
Ingenia Holidays South West Rocks Park Manager Alison Evans said she is amazed but honoured the holiday park has been recognised on the national stage against not only the finalists, but all the other great holidays parks around the country.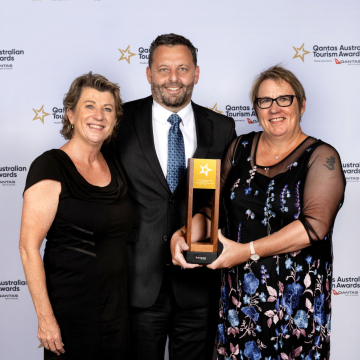 "It's definitely been a challenging time for the tourism sector, but the Ingenia Holiday Parks team has turned this time into an opportunity to review, adapt and innovate, so when guests could visit us again, we were ready to offer them the best possible experience," Ms Evans said.
"We've opened up the park to holidaymakers travelling with pets, and offer two new accommodation options – our Skydeck villas which have been a hit with families, and our accessible cabins which were designed with the needs of wheelchair users firmly in mind.
"But it's not just about the new accommodation or facilities, there is a really unique experience that keeps people coming back – it's the atmosphere, the welcome and how you feel when you come into the park. It's the whole package.
"The South West Rocks team are exceptional tourism professionals and this award recognises their passion for the industry and local area, and the spectacular work they do every single day.
"Our success is due to everyone in the park, from reception, to grounds and housekeeping – we're all important, we're all needed – every one of us.
"We are so proud to represent our region and are delighted we've been able to showcase tourism on the North Coast."